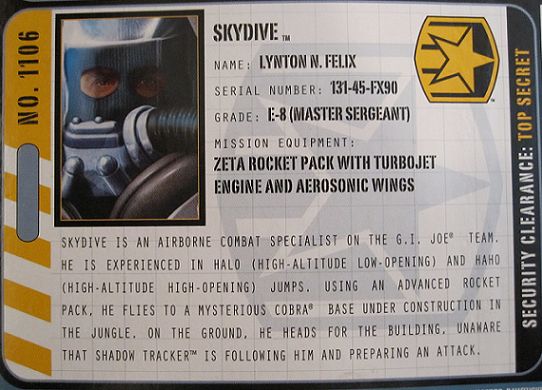 It's
Skydive
! No seriously, he's got the same name as the Sky Patrol guy. 'Course, I wouldn't have known without
General Hawk
pointing it out, 'cause I don't remember Sky Patrol at all. Nonetheless, it's a cool nod that'll stay just a nod, since the filecard only has the name in common. This one is yet another that tells you what he is, that he's good at it, and gives a little story about what's going on. This time, Skydive has to fly to the jungle where Shadow Tracker can taste his fear!
Of course, to get to the jungle, Skydive has to use some pretty heavy stuff: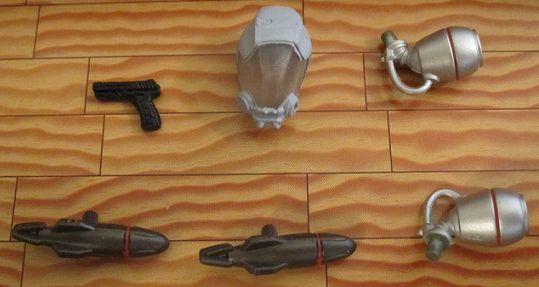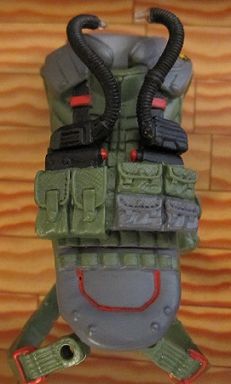 Heavy stuff, and only heavy stuff!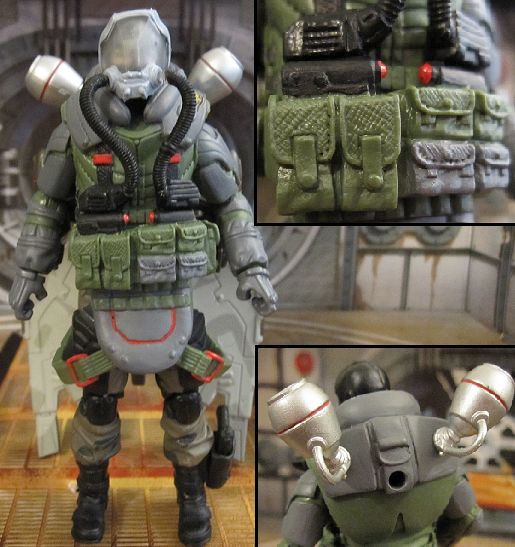 The guy is loaded down with basically his only feature: the gear and the jetpack with the pop-out wings. As you can see, the gear is really detailed with all those fancy pockets, and it makes his legs just about useless. Then there's those canisters on his back for...um...air? Best I can make of it. I don't know what else those could be, 'cause they can't fit any other way. That, and I dunno how the heck this thing flys...seems more like a glider pack. But hey, this guy is gona land in the jungle at one point, so he's gotta be able to take that all off, right?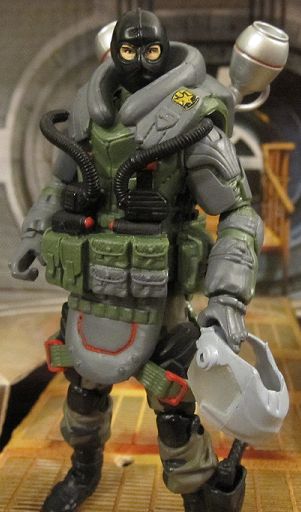 No, I mean, all of it; he can't go walkin' around with that junk on.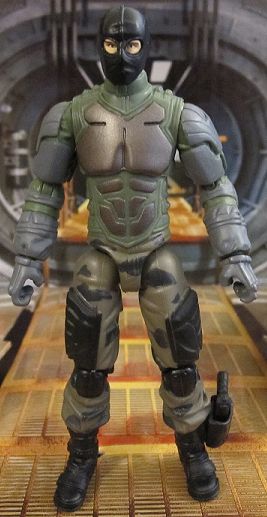 There we go! Pretty sweet, actually. With nothing in the way, the articulation works perfectly, and he can hold pretty much anything with those perfect hands!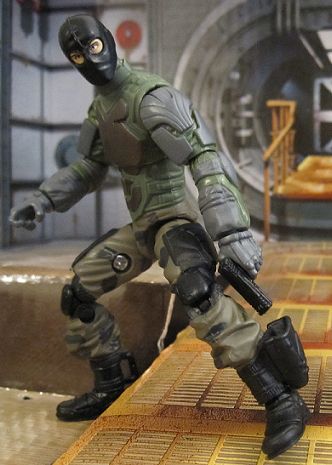 Like, ah...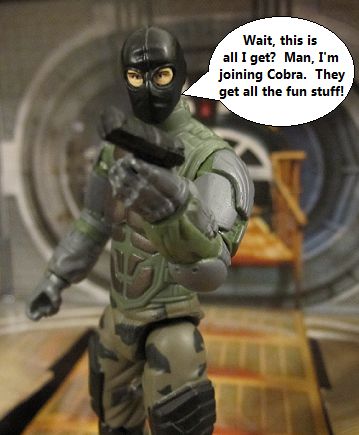 His one pistol. Okay, I know - I can't complain that much. He's got so much stuff that you can't expect him to come with a full load of weapons. Still, I can't help but think that it's not more than what many of the other figures are coming with. They could have squeezed one more small rifle in there, like this: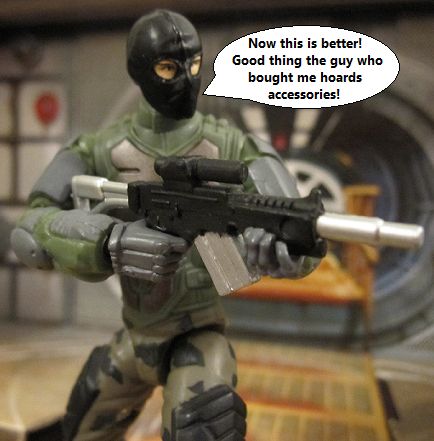 I do find myself kinda at odds with the idea that they need to shove as much stuff in the package as they can, but in this case, they could have gone the extra mile and put in a bigger gun and mold a spot on the gear or pack for it to be stowed. This guy is on a mission to a Cobra base in the jungle; he could use something other than a pistol! Of course...being who I am, I DO have a ton of options to give him, but it makes sense to judge these on a case by case basis. Ya know, the complete package.
But hey, that's a lot of complaining! Do I like this guy? Yeah! He's cool! I suppose I was a little bored, at first, but that is always fixed with a little childish run around the room making plane noises. I'm a sucker for a jetpack, but I can't help but wonder how long they'll last in the more serious days of G.I. Joe.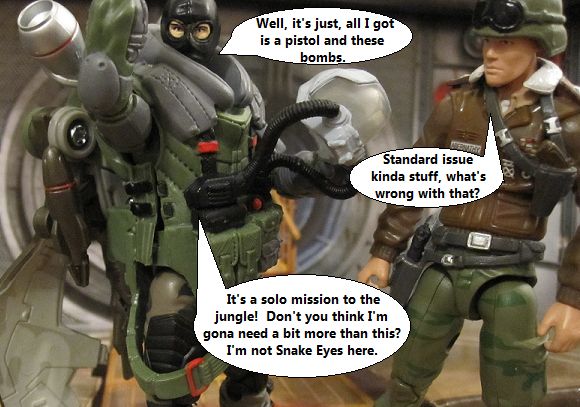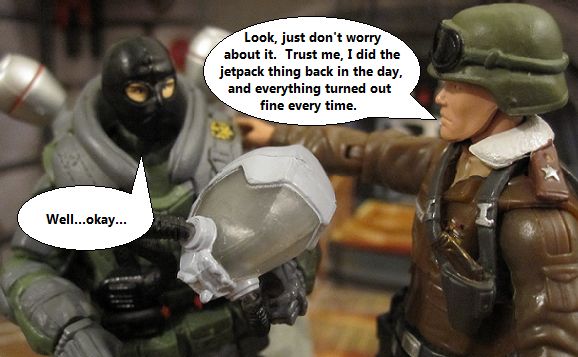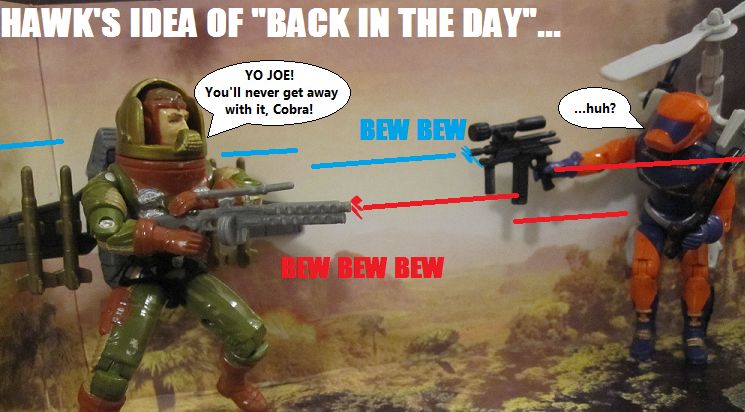 Like I mentioned in the Shadow Tracker review, it seems like everyone means business these days! No more lasers 'n bright colors. No, jetpacks get treated more like this when you consider what he's got to go against with the jungle figures they've made so far: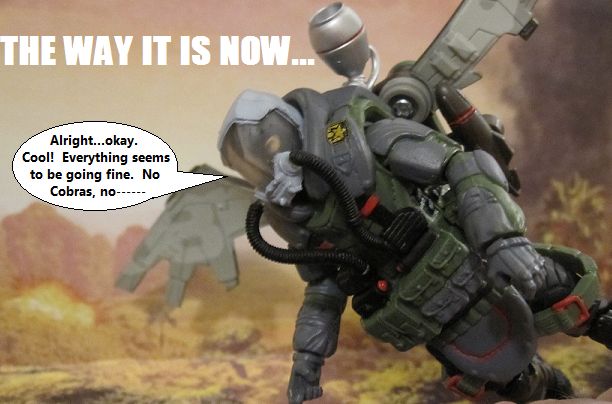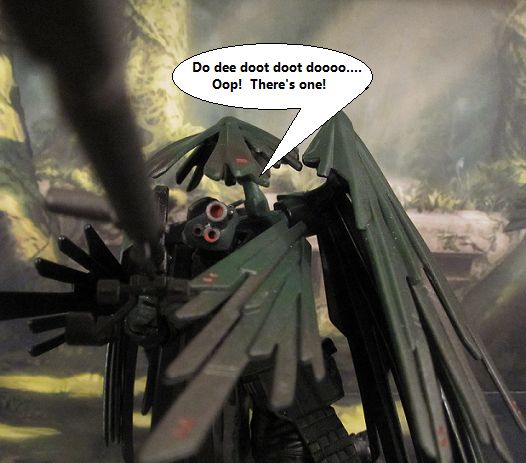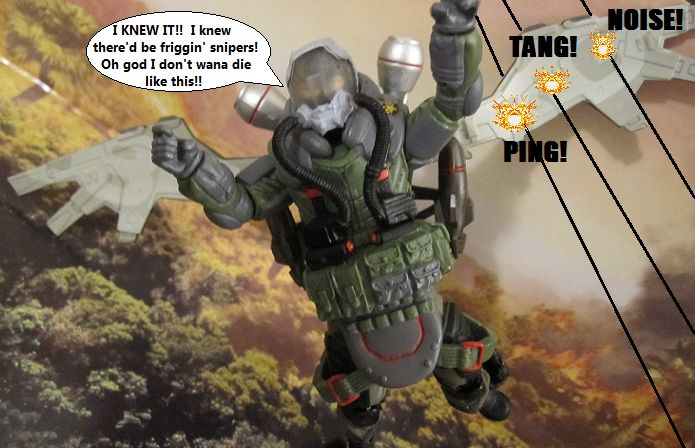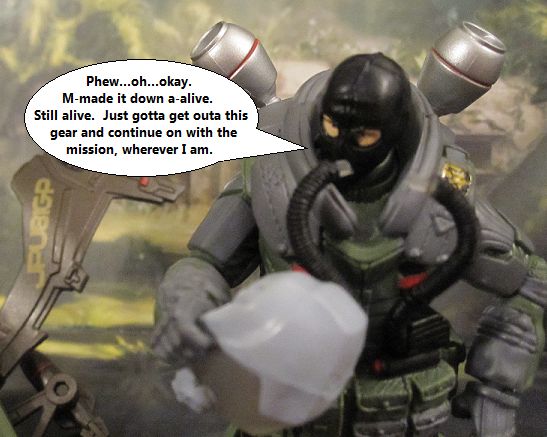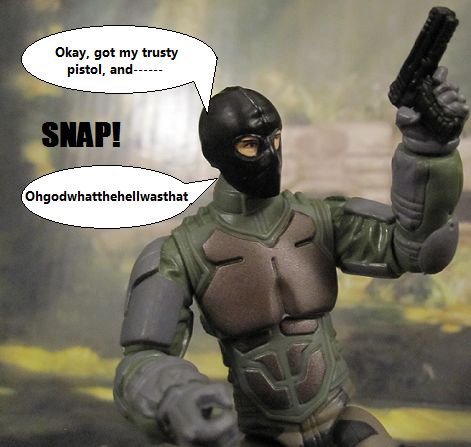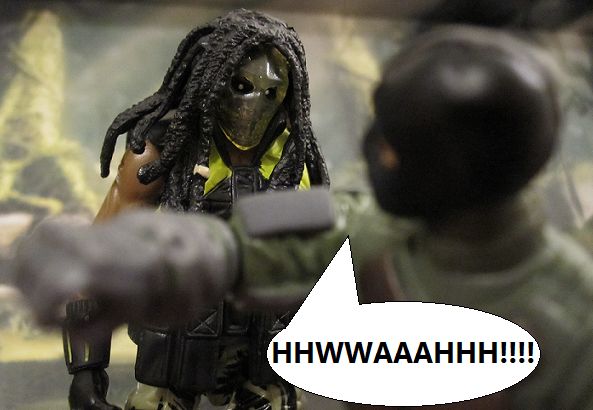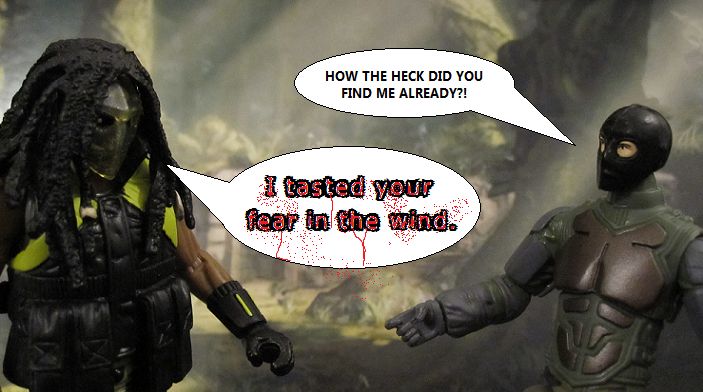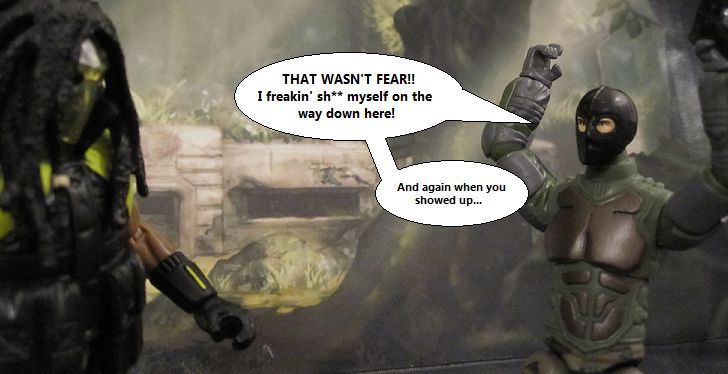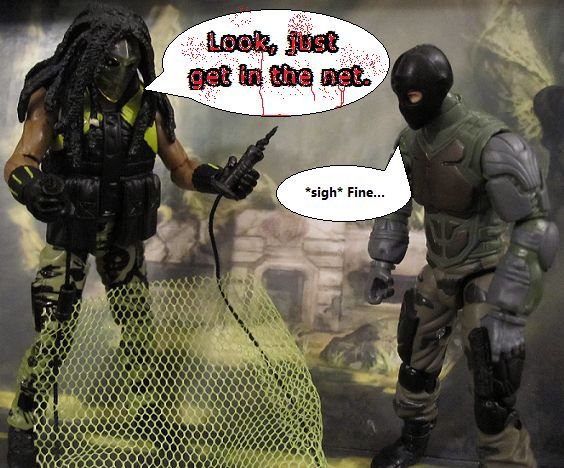 You've got crazy snipers that blend in to the trees, and when they pick you off like you were in Duck Hunt, you've only got THAT on the ground waiting for you. 'Course he does have two bombs to drop...maybe he'll hit Shadow Tracker, if he's lucky.
Okay, I know what you're thinking: "Alexx, you're rambling. What's the deal here?" Well...i'm kinda torn. I don't think this one is a buy-on-sight, but he's not bad, either. He gets done what he's tryin' to get done. He's a guy with a jetpack, and jetpacks are always cool. Somehow, though...it's just missing something. I remember General Hawk (the toy) with his awesome jetpack, and I loved the heck out of 'em. It was a fun toy (and my first G.I. Joe ever). This one, though, bring the jetpack idea into a more realistic look, and...well, I just don't think jetpacks need to be realistic. When he's in his gear, he just flies, whereas G. Hawk was fully poseable and able to do ridiculous things that someone with a jetpack shouldn't be able to do. I just think that jetpacks don't NEED to be realistic, ya know? He's a big chunk, and I did have a good time flying him around, but when you take the gear off, he's just a dude with a pistol! One way or another, he's missing something. He's needs something else, and he needs a bit more poseablity while in the awesome gear.
So, with that said, I think this guy is a solid "Neat." Cool, certainly looks awesome, but also seems to be missing some of that action figure goodness that I've come to love with a majority of the recent releases. He's really freakin' cool without the gear, but he'll need stuff! I'd get 'em for parts, mostly.