Well, I didn't think these would show so early.
I didn't pick up a Thor yet (not sure if I will) but Odin and Loki were real cool lookin'. They're still cool figures, but man...those weapons. I don't know.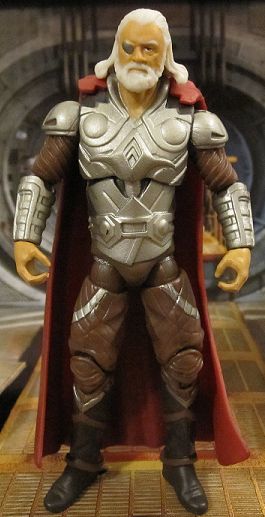 He's pretty freakin' cool lookin', but the weapons are completely POINTLESS. For adult and child alike. Here's your first clue:
This is just one of many pics of him falling over with that junk in his hands. The rest weren't taken 'cause he sword kept dropping out of his hand. Anyway, here's what they look like when I got him to stand:
The shield there has blades that pop out, and the sword...explodes into more swords or something.
Now, I tell ya, I was actually excited about these ridiculous things when I saw them. I don't like action features, but I love it when they shove 'em into accessories. It's just that...usually, they give them another normal accessory (like you'll see with Loki). Odin has nothing but these useless chunks. And BOY are they useless. I mean, the shield is kinda cool, but the sword...well you can't use it in either form! "But Alexx!" You say, "That stuff is made for the kids!" Is it? Is it really? I don't know...when I was a kid, I was annoyed as heck when my toys couldn't hold their accessories. These things flop around 'cause they're so heavy, and the sword...well it just doesn't stay in there. That's no fun for anyone. And what's with that action feature?! What is it DOING? I mean, an extenting sword, a glowing sword, maybe the blade opens and lightning pops out...ANY of those things would have been ridiculous and cool compared to this confusing mess. On top of that, his cape barely stays on, so if you're buying Odin, you're only buying a cool figure and paying for a bunch of other junk.
To salvage him, I dug through the accessory drawer and gave him a good substitute for Gungnir:
Final thing I did to him was wrap those clear rubber bands around his hip joints (parts that attach to the body) so his legs didn't spin around when I tried to just push his legs forward. I'd fault him for this, but they seem to think this is standard for movie superhero figures nowadays (had to do this for most of the Wolverine line, including Deadpool). Other thing was that his hip joints (the actual ball joint) are TIGHT as heck; I was afraid of breakin' him.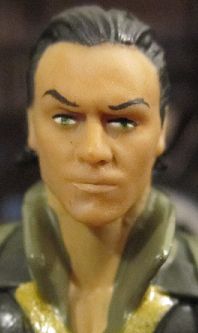 Next is Loki. I felt he was a little better, 'cause his weapon was semi-useable. Still had to use the rubber bands on his hips, though. Also, the neck is just horrible...the joint for the neck is not flesh colored, so he has this big brown strip on his neck.
Thing that makes him a little better is the knives, and that his hands are stiffer so he can hold them and his sword-thing.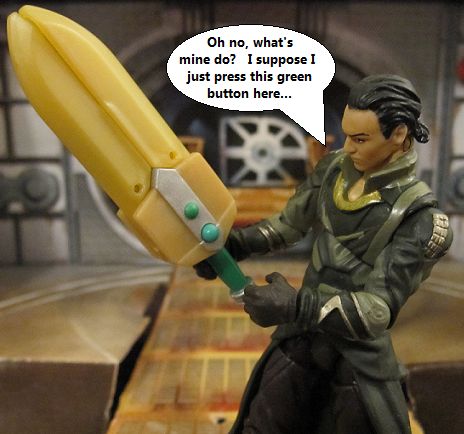 I don't know what that feature does, but at least the blades pop off and do this:
Kinda neat, at kinda what I was hoping for with these crazy things. Kinda throw-away, but at least I can see how it would be fun.
Finally, I threw this together 'cause I thought I saw a little Serpentor in his face and the colors of his clothes:
Take it or leave it.
Anyway, these are hit and miss. I don't regret Odin completely 'cause he's cool looking and I like having a representation of Odin...however, I don't blame anyone for skipping him, if you don't feel like rearming him and fixing his hips. Loki is cool, though! If you don't mind the neck thing, I'd get 'em. I'm not planning on getting much more, though the stuff shown at Toy Fair looked pretty awesome.