If you read these things of mine, you'd think I was happy to buy any figure in this scale and call it a day. You'd mostly be right! I'm also a big fan of resuing parts and repainting, so long as it looks like some thought was put into it. Granted, I can't say some thought wasn't put into this one, but once I got it in my hands, I can say that it just doesn't feel like the idea was gotten across very well.
The first problem, I think, is the head. The buzz cut and goggles says X-TREEM SNOWBOARDING to me, and not ninja. Right then and there, it gives me the impression that this guy
says
he's a ninja, but in reality, he just really loves ninjas. I mean, A LOT. My captioned photos will reflect this.
So lets get to it. First, I told ya I didn't like the look of the head with the goggles. Next, the accessories don't really try very hard to bring it home.
I already didn't like the...whatever that lancher is...that came with Storm Shadow originally. Storm Shadow, though, is freakin' cool and can over "shadow" (yukyukyuk) the horrible thing. This guy isn't so lucky, since they decided to add an extra giant frisbee rather than another cool weapon. Thanks.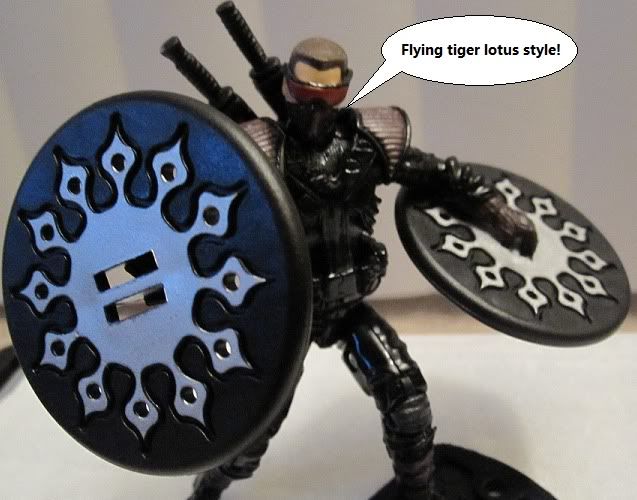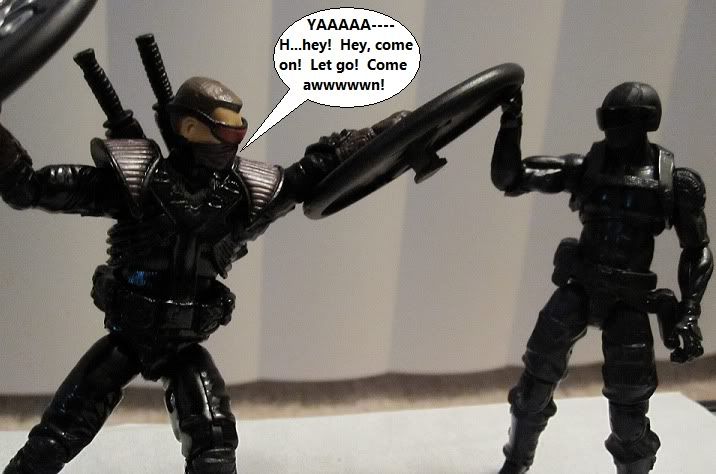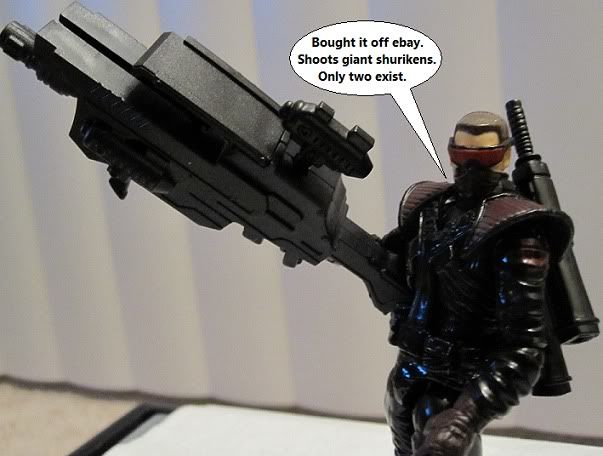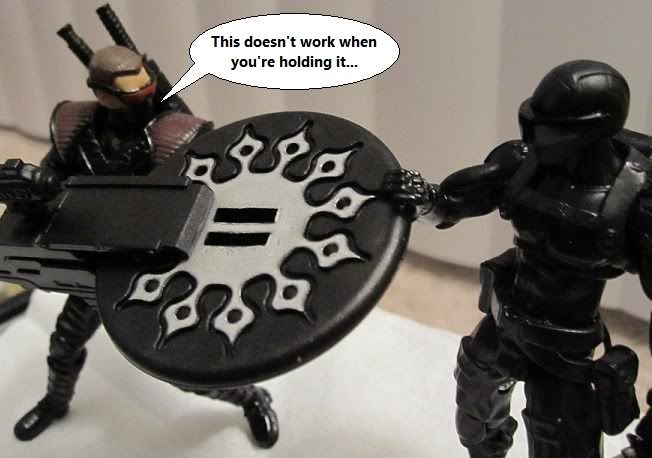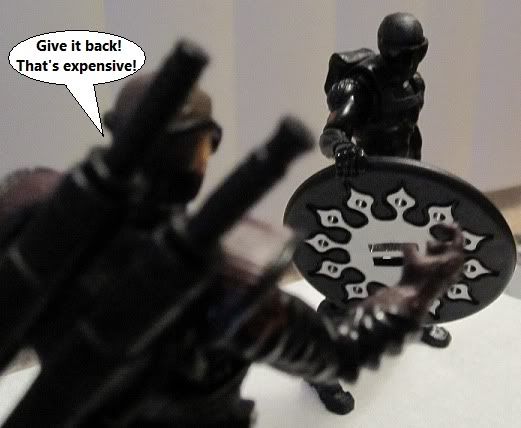 Beyond that, though, lets take a look at the stuff that'll actually matter to you!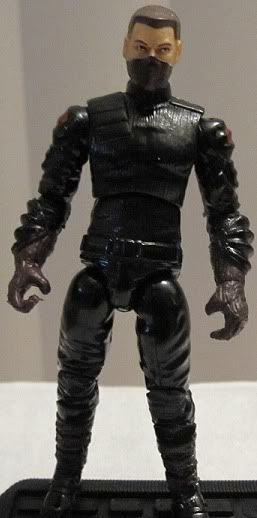 Here's your basic figure, sans stuff. It's actually kinda cool like that, and adding any sort of gear will get you something neat. He's even got Cobra symbols on each shoulder: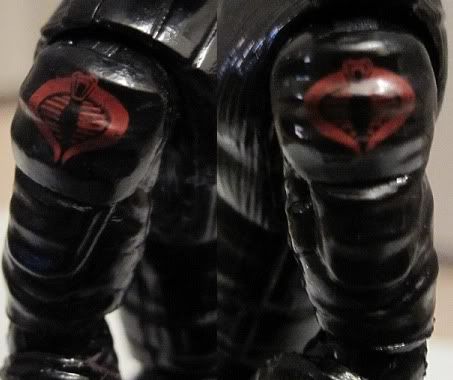 Adding the stuff he comes with, though, creates RoC's excuse for the Red Ninja clan.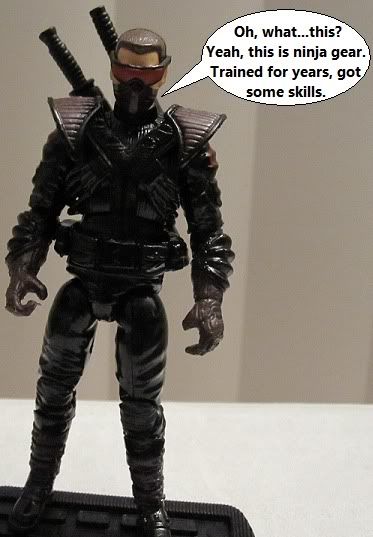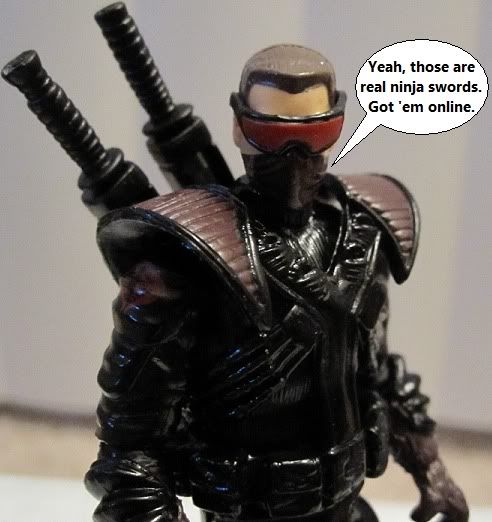 In this state, I just can't take him seriously. He looks like a D-Bag ninja! If they wanted to throw together a RoC Red Ninja, I wouldn't have minded the tech angle (even though Night Creepers cover that) but for some reason, this stuff together just makes him look funny and completely non-threatening.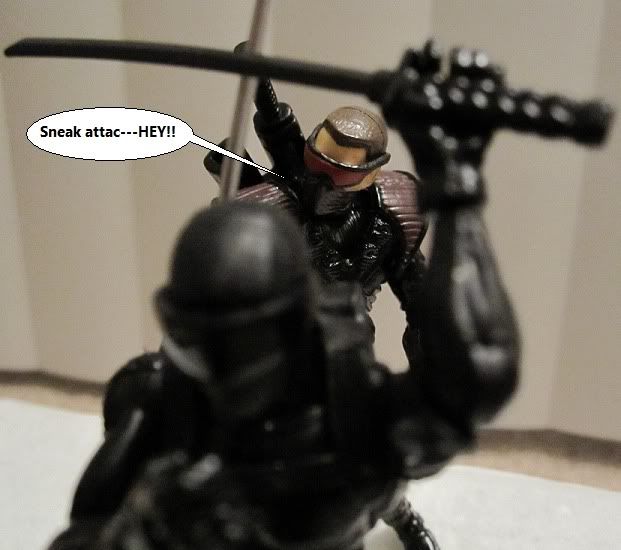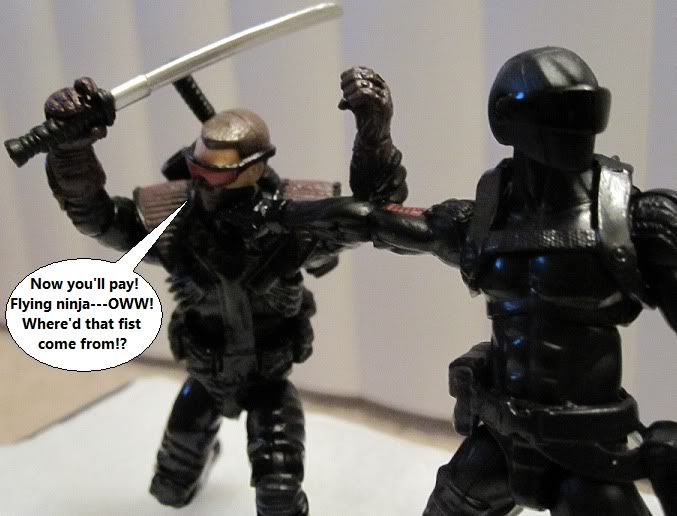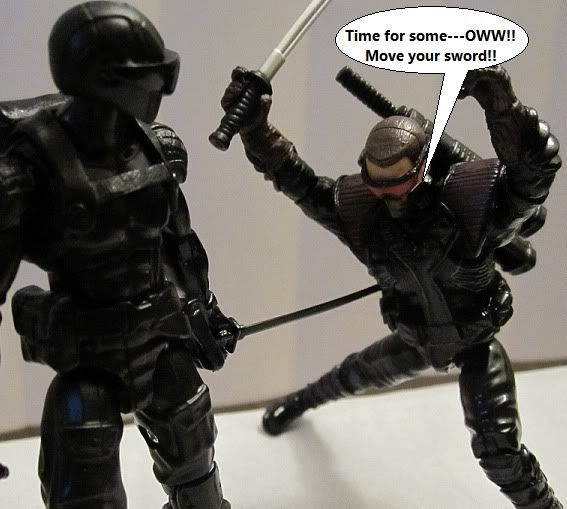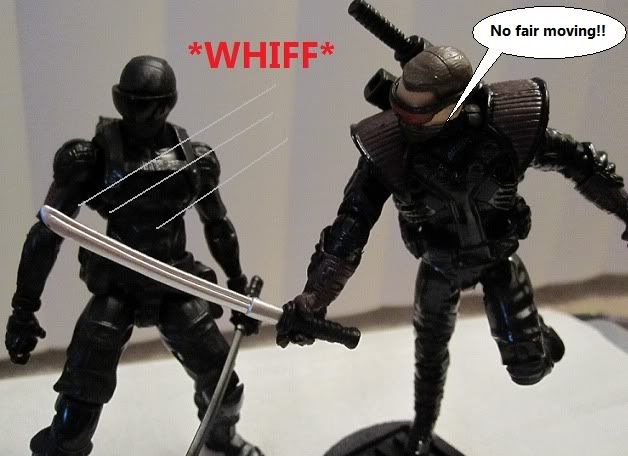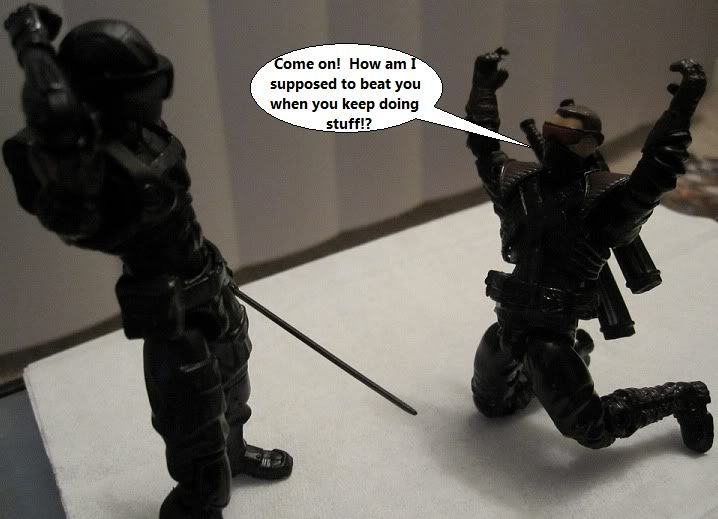 I can't tell ya to skip this guy, though. You can never have enough of those goggles, and the swords are good 'n standard. The base body is even pretty cool! The ninja harness was always kinda funny (somehow only Storm Shadow can pull it off) but it has plenty of good stuff on it to be cut apart and used for different things. The only mostly useless thing is the launcher and discs, but even those can be used with an imagination and some tools.
So, in the end, I guess I'm trying to say that this is great fodder! Nonetheless, I can see this guy being a bit more serious in the eyes of others. Bet you were surprised that I wasn't enamored with this one, eh? I do like my ninjas, but somehow this one just doesn't hit the same mark for me.